Sydney has the most creative and fresh new corporate team building activities and team outing ideas in Australia. From music to food, indoor to outdoor team bonding experiences, Sydney has it all.
With Sydney growing into being one of the main financial hubs in Asia, and with the advent of globalisation, organisations and corporations are moving rapidly. It is no longer uncommon to witness the number of personnel in a company growing exponentially in a short period of time. In view of this phenomenon, there is now a heightened importance on team-building; company employees need to get to know each other outside of the work environment, in order to foster and enhance team chemistry and camaraderie. Team bonding is all about building trust and mitigating conflict, with the goal of encouraging communication and increasing collaboration amongst your employees. Getting your employees out of the office, and engaging them in a creative team building event is one of the best investments you can make in your company.
With that being said, let's take a look at the top five (not listed in any particular order) team-building activities that can be found in Sydney!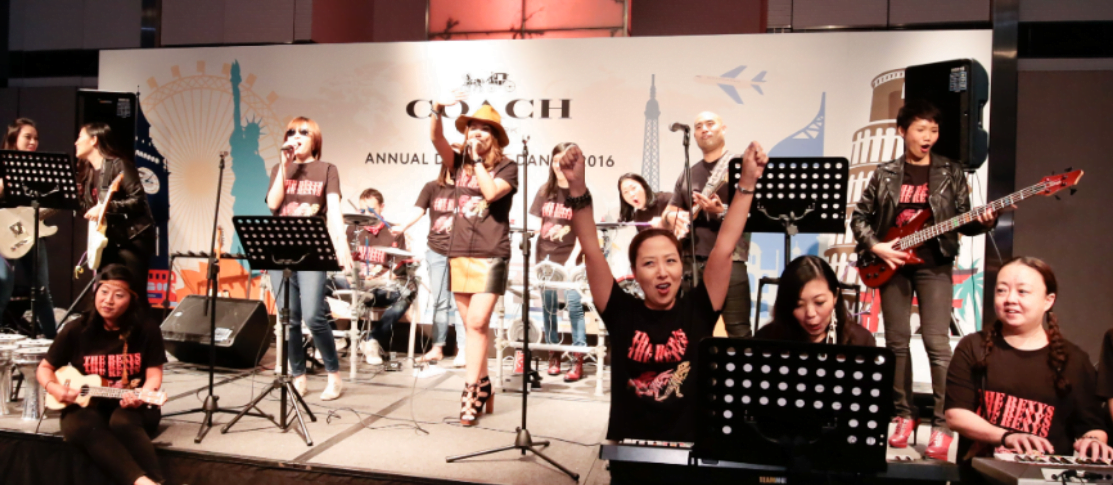 Looking for corporate event ideas in Sydney? Have you ever been to a concert and found yourself captivated by the music being played by the band on stage? Have you ever had a childhood dream of singing your favourite hit song from Crowded House? TEAM MUSIC is definitely the place to be for such dreams to come to fulfilment!
Bring your team down, and have experienced musicians coaching them on how to play music in a band! This includes the whole full works of having drums, guitars, percussion, ukuleles, bass guitars, keyboards and singers. By the end of each session, you and your team would have played through and be able to perform two popular songs that you regularly hear on the radio.
If that sounds challenging – keep in mind that Team Music has done this hundreds of times, for participants with minimal or even zero musical experience with an extremely high success rate! Each session will see your team be broken down into smaller groups, whereby they would then be attended to by one facilitator whose task is to teach each group on how to play a specific instrument. The magic happens, when these smaller groups come together again to play as one huge band!
Team Music has won numerous awards over the years, such as Human Resources HR Vendors of the Year 2018 Bronze (Singapore), Best Corporate Team Building & Conference Specialists by Lux Life Travel & Tourism Awards 2019, and Most Valuable Companies 2019 for Team Building Innovation.
Engage your team in a music-filled day and show them that nothing is impossible, with this program that places an emphasis on three values that are cornerstones of a good team: Clarity, Collaboration and Commitment.
Stand-out Features:
Customizable size ranging from 10 to 350 participants, with consistent levels of engagement for all participants
No worries if you have no prior musical experience; that is the whole purpose of this activity: to achieve what you deemed impossible!
Team Music has hosted over 300 companies and more than 20,000 participants.
Instruments will be provided, so all you need to bring is yourselves!
2 . GRAFFITI ART
If you are looking for a creative team building event, then look no further than a graffiti art session for your company's team building outing.
Groups will be broken up into smaller teams of 10-15pax – they will then work together on their respective blank canvases, with the goal of creating an artwork that represents the company's branding and values. They will be given a two-hour timeframe to do this, and will be coached on creative techniques and fundamentals by renowned Australian graffiti artists.
Get your team thinking about your company's values, while working together in a relaxing and fun environment! You could even choose to display the overall best piece of the day, on a wall in your office once the day is over.
Stand-out Features:
Customizable for a group size of 10 to 400 participants.
Can be run in almost any venue, provided it is outdoors and has good ventilation.
Aprons, masks and gloves will be provided to keep participants paint-free at the end of this fun team bonding event!
3. AMAZING RACE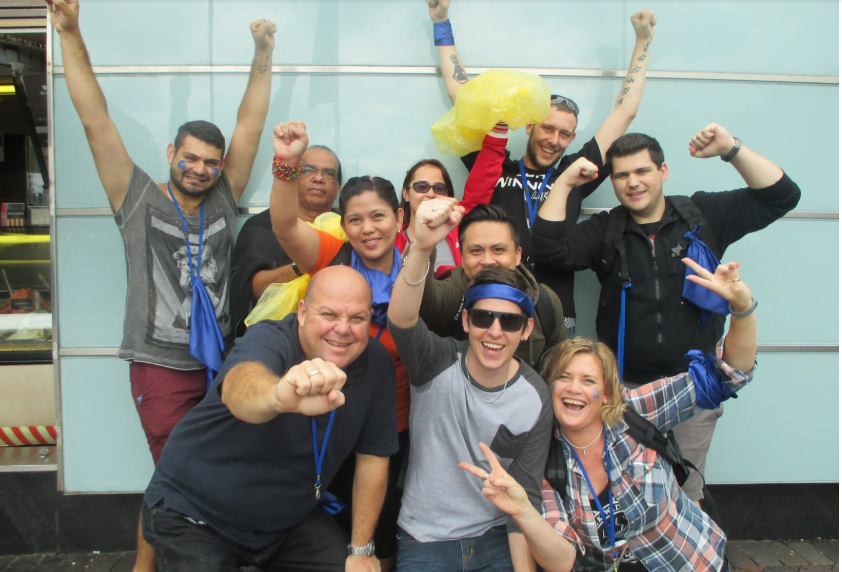 This one's great if you are on the hunt for cool experiences in Sydney. While more suitable for the outdoorsy types, anyone fit enough to go through a brisk walk will be able to participate in this Amazing Race.
Teams will be divided into smaller groups of 6-8pax, and be given a map and clues. They will leave at different intervals, heading for various checkpoints where they will be briefed on point-scoring activities. Once these are completed, they will be given clues for the next destination. This will keep repeating until all teams have completed the race, with the overall winner being decided based on completion time.
This is one of the outdoor activities in Sydney that is bound to improve communication levels and cooperative energy within your team!
Stand-out Features:
Customizable for a group size of 14 to 125 participants.

Suits all team types, gets you outdoors, and is competitive enough to make end-day results interesting!

Can be run in various fabulous Sydney locations, which include the Botanic Gardens, Hyde Park, Cockle Bay and Darling Harbour.
4. COOKING CLASS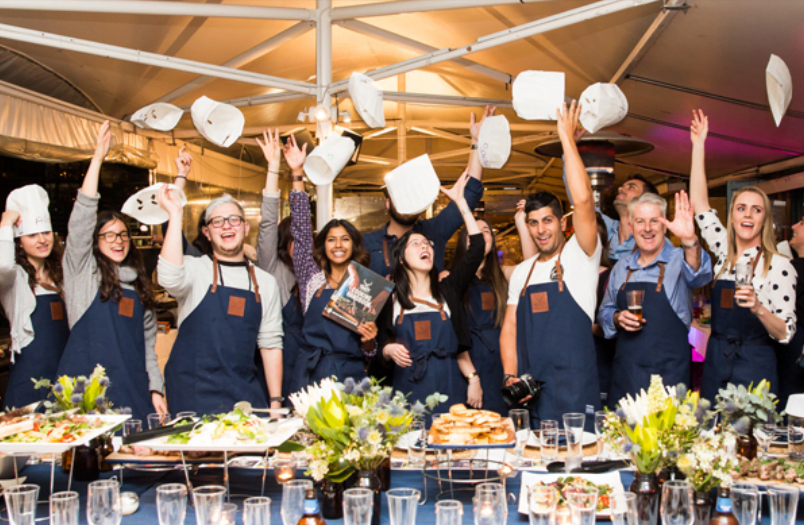 This one's a classic corporate team building idea: take part in a cooking class as a company!
This is an amazing team bonding experience that probably results in the most satisfying reward – a delicious gourmet meal. Rather than taking your team out for lunch, why not have them craft and create a meal – all the while learning new skills and engaging in fun team bonding. Even those who can't cook will be learning some simple skills!
The price of this affordable team building activity includes the recipes used, so your employees can cook the meal again at home and remember the great experience they had with their colleagues.
Stand-out Features:
Customizable for a group size of 6 to 100 participants.
All food will be prepared fresh on the day of the event, with various themes to choose from – Italian, Spanish or even Mexican style food!
Venue location is flexible, as long as there is good ventilation.
5. BUBBLE SOCCER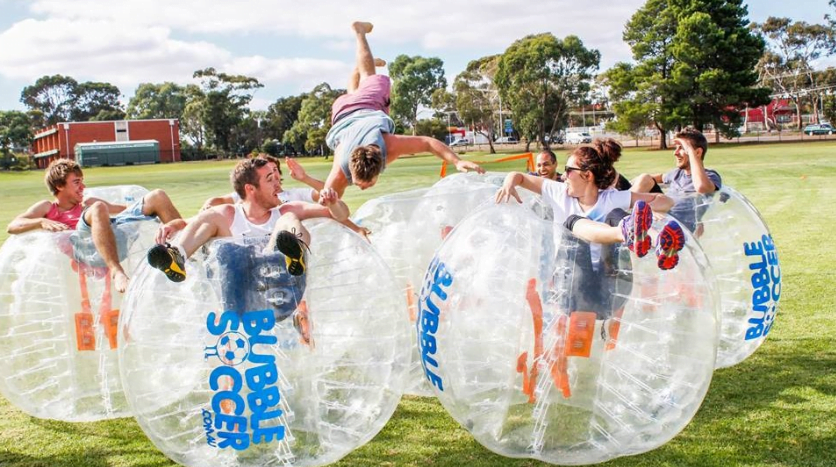 Bubble Soccer is a team building activity that has seen a rise in popularity in recent times.
If you are looking for cheap team building activities that everyone can enjoy, do consider Bubble Soccer for your next team bonding day! Everyone on the field down to the spectators on the side lines, will be having a ball of a time. Watch your employes forge team spirit and devise team strategies to score the most goals and win the game.
They have a corporate package that includes on-site locations, as well as the provision of bubble suits and referees.
Stand-out Features:
Customizable for a group size of 6 to 30 participants.
Referees and bubble suits provided for the day!
Venue location is flexible, as long as there is a wide enough space for a kick-around.